In Memory of
Army Specialist Robert Thomas Johnson

30 December 1985 - 7 January 2006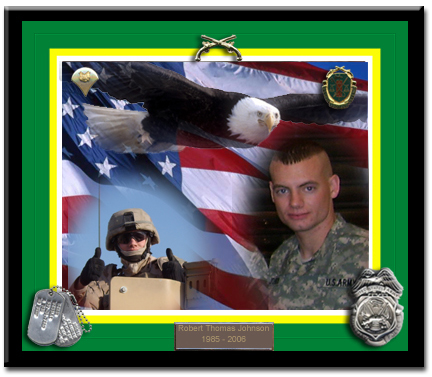 Please take a moment to View and Sign Memorial Forum
Robert Thomas Johnson was born 30 December 1985. He was a member of the Pleasant Grove Freewill Church. He had an amazing sense of humor and according to his parents, "was a people person who never met a stranger."
In 2003 he enlisted in the Army Reserve as a 31 "Bravo" (Military Police) and was assigned to the 805th Military Police Company, in North Carolina. He graduated from Triton High school in spring 2004 and went to Basic and Advanced Combat Training in July 2004 at Ft. Leonard Wood, Missouri.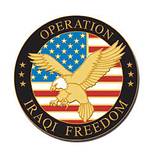 He was mobilized for Operation Iraqi Freedom with the 414th Military Police Company out of Joplin, Missouri, in 2005. Prior to the deployment, his medals included the Army Service Ribbon. He loved being the saw gunner in his team while deployed to Iraq.
He looked up to his Uncle who was a Black Hawk pilot, and aspired to become a Warrant Officer as either an MP or a Black Hawk Pilot. He had plans to attend Airborne and Air Assault School, as well as college.
His hobbies included rebuilding old cars with is dad, racing, dancing at the Longbranch, mudding & riding 4-wheelers, playing his x-box, and learning about history. His favorite color was red. Those of you who have seen his truck, will know this.
Everyone he came into contact with, knew he was proud of his country and loved being a soldier. He is survived by his Mother Amanda D Johnson, Dad Thomas Johnson and Step Mom Betsy Johnson.