In Memory of
Army Sergeant Nathan Robert Field
24 April 1982 - 7 January 2006
Please take a moment to View and Sign Memorial Forum
Sergeant Nathan Robert Field was born on 24 April 1982. He graduated from Southeast Webster High school in the spring of 2000. He joined the Army Reserves in 2000 as a 31 "Bravo" (Military Police). In 2004 he went to 88 "Mike" (Motor transportation operator) school.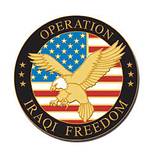 In 2001 he served during Operation Noble Eagle at Sunny Point, NC. In 2005 he was mobilized for Operation Iraqi Freedom with the 414th Military Police Company out of Joplin, Missouri.
His medals include the Army Achievement Medal, National Defense Service Medal, Armed Forces Reserve Medal with M device (for mobilization), Global War on Terror Service Medal, and Army Service Ribbon.
On the civilian side, he worked at a boy's ranch and for Budweiser. His hobbies include Pheasant hunting, and watching his favorite sports teams the Iowa Hawkeyes and the Chicago Bears.
He was a great leader and friend and was deeply respected by his soldiers. Nathan is survived by his fiancée Connie Gruber who he was to marry June 24 2006, his Mother Mary Field, Father Bill Field, and Brother Eli Field.
Update (January 17, 2006) - Funeral services will be held Wednesday, January 18, 2006 at 10:30am at Corpus Christi Church with the Rev. Brad Pelzel officiating at the Mass of Christian Burial. Burial will be in West Lawn Cemetery in Lehigh with Military Graveside Rites conducted by the Honor Guard 304th Military Police Detachment . Friends may call after 4:00pm Tuesday at the funeral home, where there will be a vigil for the deceased at 7:00pm.